Guardian ROV
ROV's
Designed and manufactured at SubSea Tech facilities in Marseilles southern France, our mini-ROVs are the perfect tool for underwater inspections down to 150m depth. Fitted with two high resolution cameras, they can carry navigation and imaging sonars, thickness and cathodic protection probes, physic-chemical sensors, etc. Ultra compact and light weight, they are transportable and operable by one person.
Applications:
Dams, bridges, tunnels inspections / Water tanks and canalizations control
Ports and ship hull inspections / Search for objects, mines, arms, bodies
Offshore inspections (FPSO hulls, jackets, pipelines, …)
Interventions in hazardous and polluted environments (nuclear, sewage, …)
Environmental studies and surveillance of fish farms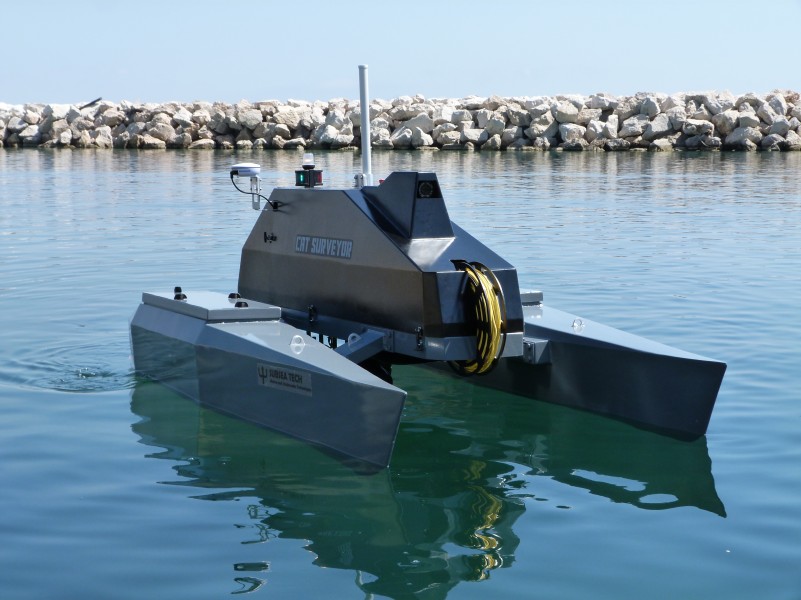 Cat Surveyor
CAT-Surveyor is a small USV for surveys in harbor, coastal and inland waters such as civil works and infrastructure inspections (dams, bridges, quays, dikes, gates…), bathymetry, ADCP, sea bottom surveillance and environmental monitoring.
The system is based on a catamaran type vehicle fitted with an embedded PC allowing an easy integration of different sensors such as acoustic cameras, sonars, echosounders. A unique feature of CAT-Surveyor is its capability to embark a mini-ROV for visual inspection or target identification. It can be piloted remotely thanks to a long range WIFI link with the shore control. Alternatively, its automatic navigation system allows running preprogrammed missions.
The catamaran is also marked out by its compactness: 3m long, 1.6m wide, payload of 80kg, folding mast and antenna, transportable on a trailer or in a small truck.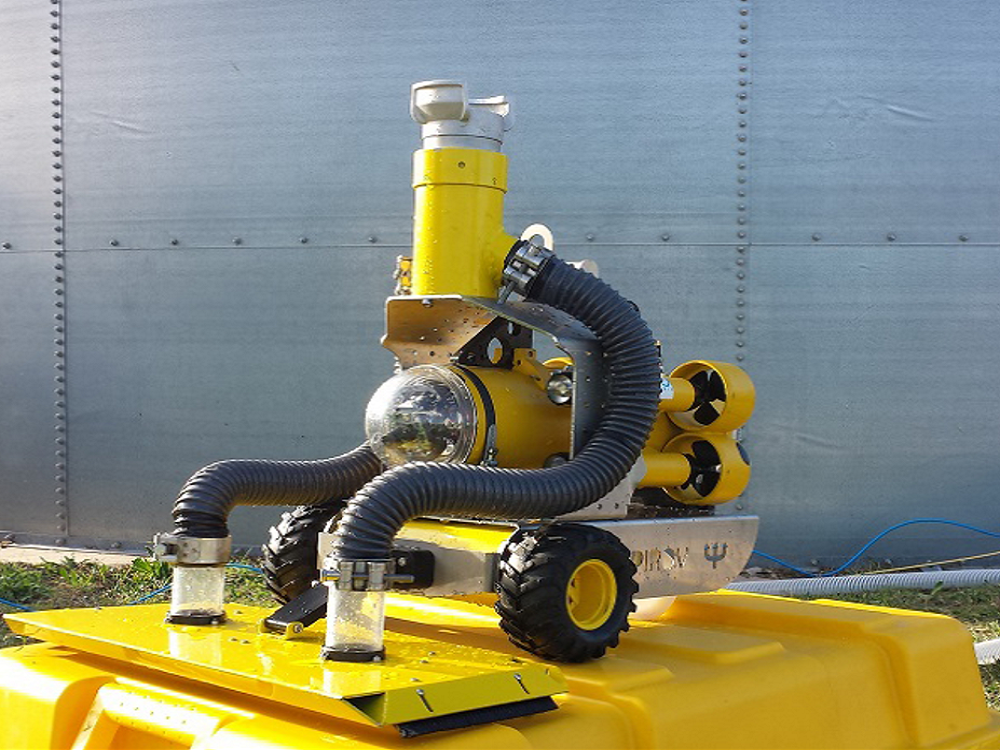 Aspirov
ASPIROV has been specially designed for the inspection and cleaning of both potable and industrial water tanks. The system includes a Guardian type mini-ROV, used in stand alone for the inspection phases, and an aspiration skid on wheels allowing the removal of silts and sediments from the tanks bottom. A ballast system, controllable from the surface, allows adjusting the systems weight in water and an external suction pump ensures the circulation of pumped water trough a flexible umbilical.
Aspirov 1.0 is a water tank cleaning robot. This robot system is composed of the Guardian 2.1 mini ROV for inspection tasks with a crawling/suction skid for cleaning. The system can therefore be used either in cleaning mode (crawling) or in inspection mode (free swimming). One operator only is needed to carry out the cleaning.
Mini ROV Guardian and associated cleaning skid. The system weight in water is adjusted by the means of a ballast tank fastened on the suction hose above the vehicle. An outside suction pump with associated hose allows pumping the cleaning debris out of the tank.
Aspirov is a highly portable system: with only 12 kg total weight it can be easily carried by one operator to the top of water tanks. The suction pump is left outside the tank. Aspirov is modular. By removing the skid (1 minute), the mini ROV has the capacity to swim and can be used for the visual inspection of the complete tank. The cleaning system can take solids up to 20 mm diameter:

Aspirov