Mehler HS helmet series
The newest and most operator dedicated assault helmets on the market, The Mehler HS series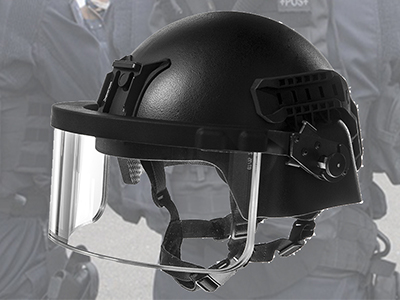 Mehler HS helmets H1S, H3S, H4S
The HS helmets by Mehler have all ballistic protection compliant with VPAM test level 3.
HS series helmets are also very resistant to chemicals and flames,  thus increasing the wearer's safety.
The ballistic visor can be put on or taken off quickly by hands without tools. With the visor off, it is possible to attach various different pieces of  equipment to the helmet on shroud and rails.NVG/Thermal, lights, cameras, beacons etc...
The visor can be locked into three different positions.
With its low weight of just 3.4kg and an optimized inner design, the HS series is exceptionally comfortable to wear.
To ensure a perfect and comfortable fit the helmet is supplied with different thicknesses of padding.
The twist catch on the head strap of the H1S allows easy adjustment of the helmet to the shape of the wearer's head.
Using the shroud  and side-rails it is possible to attach additional equipment to the helmet.
The Mehler helmet series HS s is available in a variety of sizes and colors.
Mehler Body armor and ballistic vests
Mehler Vario Systems produces a full range of ballistic equipements adapted to each mission, military and aw enforcement.
The most famous antiterror groups around the worls do trust Mehler expertise for their everyday missions.Here are some examples of vests and ballistics sets already actually in operations.
M1E military
Mehler M1E military ballistic
The M1E vest is a one of many good examples of the dedicated work made for soldiers by Mehler MVS.
This modular and very protective setup does cover the full torso against all handgun calibers
as well as rifle calibers with appropriate hard ballistic plates NIJ III, NIJIII+ or NIJ 4.
Removable items for lower parts, shoulders, arms and neck protections complete the M1E for even greater protection.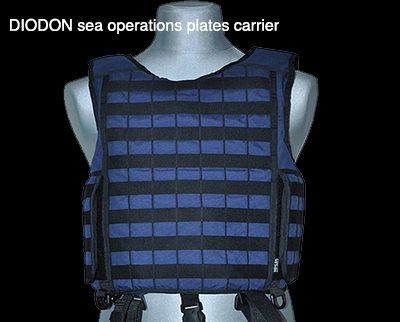 Diodon plates carrier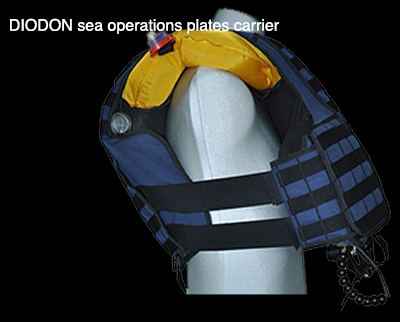 Diodon plates carrier inflated
DIODON – Ballistic vest with inside protected flotation / Model MI-1211-104
Light weight body armour overt vest offering best comfort during long missions.With side and shoulders opening. It consists of a two-panel design with rear/front with expandable elastic side adjustments and a maximum area of MOLLE attachments on front, back and sides.
The Floatation chamber is integrated behind the ballistic protection and ideally protected mechanically. The Floatation has an integrated pressure release for waist & chest when inflated. All materials selected are for special marine environment (protection against salt, water & hydrocarbons).Available Buoyancy is170N or 300N (EN/ISO 12402 components), automatic inflation with on/off mode and twin chamber in option. It furthermore is equipped with the following integrated equipments: automatic inflator with membrane, water active light, whistle, mouth tube with over pressure valve and dump valve for quick deflation (training or emergencies).  
The vest can be made with an integrated Quick release system as well: either for total vest release or fast deflation.
The product is available in different sizes, colors and protection levels.
enquiries; infos@deepcore.pro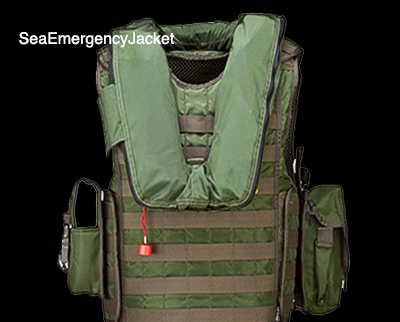 Sea emergency military jacket
Mehler Sea military emergency jacket
This jacket is the quintessence of the traditional emergency jacket for soldier .
In service and operations for many years, you know what you get; an emergency flotation device with the Mehler quality
enquiries; infos@deepcore.pro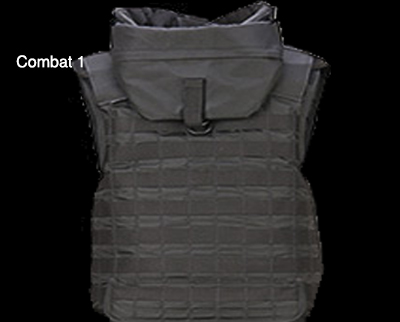 Combat 1
Mehler Combat 1 law enforcement Molle jacket
The Combat 1 combines all the needs for protection and modularity.
With integrated soft armour NIJIIIa against all handguns' calibers, it allows the insertions of two hard plates
for protection against rifle calibers. You may choose NijIII, NijIII+, Nij4 plates, front and back.
The surface is covered with a complete Molle attachment for eventual holsters, pouches, tools and instruments for your mission.
enquiries; infos@deepcore.pro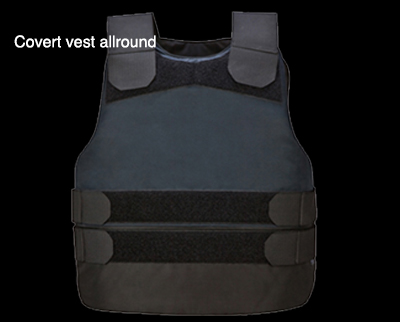 Covert vest Allround
Mehler Cover vest allround
The name says it all, the Allround is one the light and discret jackets you should choose for operations when discretion is required without compromising on quality.
With a NijIIIa soft armour integrated and inserts for hard plates this type of Mehler jacket keeps you safe and focus on your mission.
Enquiries; infos@deepcore.pro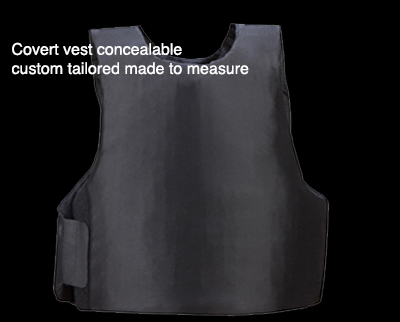 Concealable vest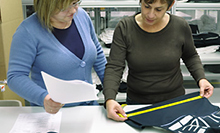 Some operations require more discretion than others, therefore Mehler MVS offers you the possibility of having
the most discrete ballistic protection jacket on the market made for your own torso. Personal size chart available.
Nij IIIa with blade (KR) soft armor protection available. Colors possibilities are black, white, cream for fitting your garment without compromising
the situation.
Enquiries; infos@deepcore.pro
Hard inserts plates
Hard plates for protection against all handguns ammunitions to APi armor piercing incendiary rifle calibers.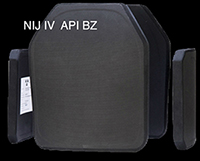 Nij IV API BZ inserts plates against assault rifles / armor piercing, incendiary ammunitions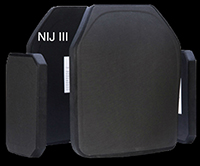 NIJ III inserts plates against assault rifles calibers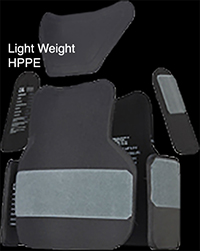 HPPE SK2 insert against handguns calibers

As one of the leading companies in the sector, Mehler sets standards in quality and design. Long-lasting product reliability is one of the key guiding principles in our development processes, production and quality management.All processes are certified to ISO 9001. The stages of production and the raw materials used can be individually retraced for every protective product.
Hard plates against all calibers, soft inserts against all handguns and blades, modular vests, concealable vests,
Mehler Vario Systems offers the operative agents a full range of personnel protection against all weapons.
Enquiries at xbingen@deepcore.pro
Full integration process