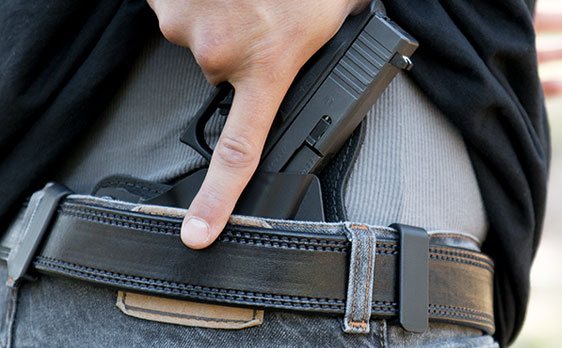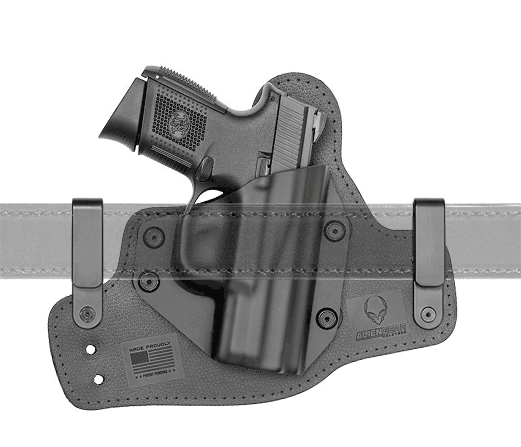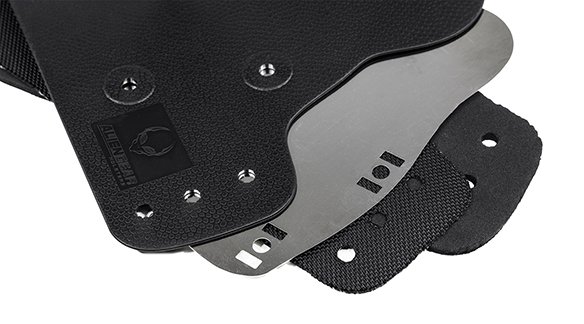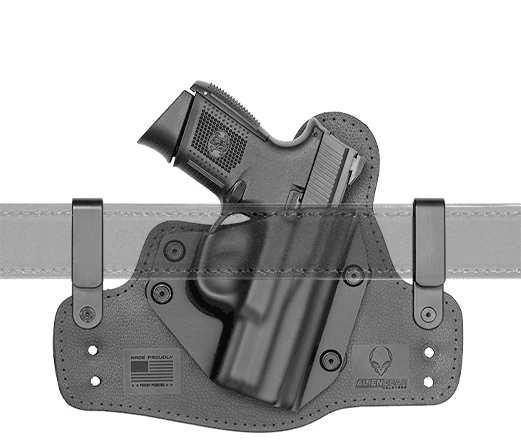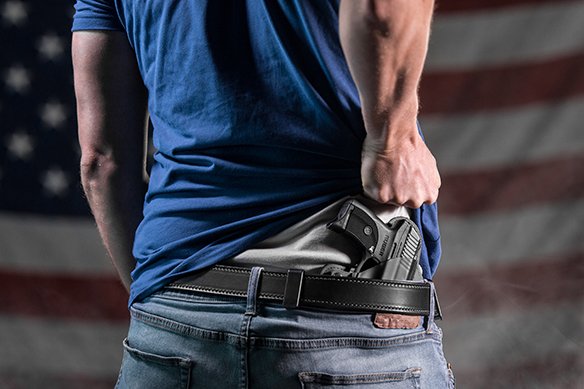 Our IWB Holsters ( inside the waistband ) are the most adjustable gun holsters on the planet.
Adjustable Tilt Angle Tilt it more, tilt it less. The choice is yours. By default, our concealed carry holsters are configured at a 15° cant. Simply raise or lower one or both of the clips in opposing directions to achieve the desired tilt angle. From the standard FBI cant (15°), raise the front of the clip to position it forward. Lowering the back clip will angle it forward as well. Conversely, if the front clip is lowered and the back clip raised, the gun holster will be pushed towards a more straight perpendicular angle.
Adjustable Ride Height Raise or lower to fit your carry preference. Depending on the desired height of the grip, the concealed carry holster can be adjusted up or down. Raising both clips will lower the handgun holster. Lowering both clips will raise it up. 
Adjustable Retention Tightened - More secure. Loosened - Faster draw. This IWB holster ( Inside the Waistband ) will maintain its proper shape over time due to its adjustable retention system. Not like the cheaper rivets used on other concealed carry holsters, ours are well crafted and exact. On inferior quality leather iwb holsters, the leather stretches with time and becomes loose. One of the leading competitors advised its customers to simply, "heat the handgun holster with a HAIR DRYER" to remold it back into a usable form. Are those the sorts of chances you want to take with your concealed carry holster? It's certainly not the standard of quality we build. This really focuses on why a proper retention system is so important – and why we use it when we make our IWB concealed carry holsters. Tighten or loosen as desired. When you draw from your pistol holster, it's your shooting style – anytime, every time.
Better Quality Components Our gun holsters are light-years ahead of our competitors'. Alien Gear takes pride in its Cloak Tuck Concealed Carry Holster Series by outfitting each with premium, durable materials that have been handmade by the industries finest holster makers. The original Cloak Tuck is made with a genuine 10-12 oz. leather base, which provides you with a plush material to rest against your side. This leather breaks in quickly while still maintaining its shape. If you'd prefer a more advanced comfort, the Cloak Tuck 3.0 is made with an ultra-soft neoprene backing. This cushy material will conform to your side for a comfortable everyday carry.
Thicker Shells 50% Thicker. 100% Better. Let's start with the durable outer shell. We beat the industry average by using marital that's a tenth of an inch thick — 0.093" to be exact. Then we apply an attractive finish to keep it looking as sleek and reliable as it is. Clothing is expensive and that's why we mold the outer shell to the bottom edge of the gun. This reduces wear and tear from the front sights scraping up against clothing. More importantly, it makes for a smooth and steady draw from the pistol holster. Some of our competitors have been caught using an outer shell as thin as 0.065" and most of the barrel is exposed. The last thing anyone wants to do is tear their trousers pulling a firearm, and that's why we don't do that to our customers. It's no way to build a concealed carry holster. 
Stronger Belt Clips Low profile. Super secure. Adjustable. Gun holster clips should accommodate more than just one belt. That's why our holster clips are built to work with belts from 1 1/4" to 1 1/2" in width. Made with durable glass-filled nylon, our pistol holster clips hold their shape over time and will latch on snuggly to your belt. Once fastened, the gun holster stays put when your weapon gets drawn. We offer a wide array of belt clips depending on tastes. The popular "J clips" and "C clips" are great for comfort and concealability but we also offer the more traditional and steadfast leather belt loops and steel clips. While our competitors may plaster their logo all over their clips, we think a concealed carry holster should be just that – concealed. Instead of fancy logos, we focus instead on continuing to make the industry's finest concealed carry holsters.
Better Design Nothing else on Earth matches our technology. Design doesn't just happen on it's own. It's the product of careful planning and experimentation. That's why we here at Alien Gear consulted with veteran concealed carriers, beginners, and even mechanical engineers before we set out to design our concealed carry holsters. Using modern techniques such as 3D design software alongside the more tried and true modeling clay and shop tools, we wouldn't let our concealed carry holster fall prey to so many bad habits of the other manufacturers. Our priorities are on SUPER COMFORT and being VIRTUALLY INVISIBLE to the bystander. The result? The Cloak Tuck holster. Both us and many of our customers believe it to be the best concealed carry holster on the market – but we'd always like to have your opinion.
Tuckable Even concealable with a tucked-in shirt. To conceal with a dress shirt, simply tuck your shirt between the IWB holster and your pants.
Fast Access - Get a full grip. What's the use in a concealed carry holster if it doesn't give you a super fast draw? Our IWB holster is designed just for that. If the situation strikes and you need your weapon, you'll appreciate the perfectly shaped leather and plastic which provides a firm, unwavering handle on your pistol grip. And don't worry about the "extras" our competition often tacks on. We recently found out some of our competitors charge a fee to trim off some of the leather. That's not our way. Alien Gear only makes the finest combat ready concealed carry holsters – made right.